Spotlight on Gary Olnowich, Founder and CEO of Catalyst Construction Company
Spotlight on Gary Olnowich, Founder and CEO of Catalyst Construction Company
by GroundBreak Carolinas Staff on February 2, 2019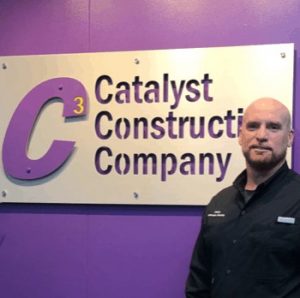 Gary Olnowich is the founder and CEO of Charlotte-based Catalyst Construction Company, a design-build general contractor with focus on the Carolinas. Catalyst is also licensed in South Carolina, Georgia, Virginia and Tennessee. 
Olnowich has over 40 years in the construction industry. He started in the business when he was young, and was running crews by the time he was a teenager. His wife Karen Yoder is an integral part of Catalyst, complementing him well with her own set of skills. 
Olnowich's background includes serving as a company commander in the U.S. Army in charge of 144 soldiers. He is actively involved in ABC Carolinas Chapter and is a past board member for that association. On a personal note, Olnowich enjoys collecting music memorabilia (both country and rock 'n roll) and is an avid hunter – with a trophy room at work that rivals a Hard Rock Café or Cabela's store.
GroundBreak Carolinas visited Gary and Karen at their Charlotte office recently to learn more about Catalyst Construction and their secrets to success.
You have decades of experience in contracting, but Catalyst has only been in business since June 2018.  What have you done to grow your company so quickly?
We have had great, loyal customers and great, loyal employees. When the company I used to work for closed its doors, I decided to start a new company and many employees and clients followed me. We have about 30 customers that we have been taking care of for a long, long time.  We know the Carolinas well, including details about many of the buildings we have helped renovate over the years. 
Catalyst Construction is a general contractor, but you have also worked as a subcontractor to several large general contractors.  Talk about these two hats that you wear.  
We happily do both general contracting work and subcontracting work. When we are a general contractor on a small project, we can handle the MEP side, as well as framing, painting, and upfits (we specialize in the demolition of interior spaces of high-rise buildings and upfitting them). On the subcontracting side, we can handle the work that nobody else likes to do – underground, trenching, and work in plants that can't afford to shut down. Often when owners witness the kind of work that we do on the "messy" jobs, they ask us to perform other jobs on the site. We love the challenge of complex projects that require our comprehensive thought and strategy for planning a successful project delivery.
Working in both roles helps us do a better job at each role, by knowing what we like and don't like about each one. This helps us treat the companies that we're working with better – the way that we'd like to be treated. For example, as a general contractor, we never hold retainage on a subcontractor, and we never will. We have implemented several practices that reduce paperwork. By lowering our costs, we can pass the savings along to the owner. We are rarely required to provide a bond on private jobs due to our reputation and payment record. We like to think of ourselves as an old-school company doing business in a new way.
Who has had a major influence in your career?
The Army had a large impact on my life. As a company commander, I had to learn how to manage people and how to be a leader. I modeled our company organization after the same basic structure that the Army taught me. And that's worked really well for me and the company.
Why do you love the construction business?
I've been doing construction all my life, and I'm good at it.  It's fun to tear down and it's fun to build it back. There is no boredom in construction because every job is different, and most jobs require changes along the way. Being in the construction business helps a lot of people – our employees have jobs and the owner gets the result they want.  We enjoy helping the community too – we've been involved with work on rehabilitation centers and halfway houses.
Sometimes you have to tell a customer "No."  When is "No" the right answer?  
Learning when to say "No" to a customer is important. We tell a customer "no" if the job can't be done (due to the tasks involved or the time allotted by the schedule), or if the specifications don't apply to the particular project. But we don't stop with a "No." We tell the customer how we can meet the end goal by approaching the job in a different way.  In fact, we typically offer other ideas for the owner on plans and specs jobs. We'll bid the job per the specifications, and then offer two or three other ideas that can save time and/or money for the owner to consider. If you can make a customer look good, they'll come back to you again.
Tell us about your company culture.
We strive for a family atmosphere at Catalyst, and most of our employees have been with me for over 10 years. We try to take care of our employees by offering them training, helping them grow in the company, and hiring people with the right personality and attitude.  We hired an estimator who had no training in estimating. However, she was the right fit for our company and we taught her how to estimate. If someone leaves our company, it's usually due to retirement, or a family issue that needs attention.  Furthermore, if an employee is not being treated fairly on a job, we'll pull them off the job.  And there are some customers who we just won't work for. 
You mentioned training for employees.  Tell us more about that.
I believe that training is critical for our employees and our industry. We do most of our training in-house with our own instructors. We've taught project management, blueprint reading, job folder organization, leadership, and OSHA classes. And Karen is getting certified to conduct in-house drug testing. This will save time and money, as well as provide a better, more comfortable process for this necessary test.  Some people have expressed concern about investing in the training of their employees in case they leave the company. My feeling is that if you hire and invest in the right people, that shouldn't happen. But if it does, you're contributing training for the industry – and that's important too.
Tell us about your wife Karen's role at Catalyst.
Karen is a great asset.  She has had many unique employment experiences – she's been a Russian linguist in the Army and a headhunter in New York City. She moved with her family to Hong Kong, and Jakarta (Indonesia) where she became a group fitness instructor, marathoner, ultra-marathoner, sedan chair racer (I had to Google this!) and international dragon boat competitor. When she returned to the United States, she owned and operated her own Pilates studio in Charlotte. 
Karen handles our HR department, recruiting, and training. She is also our best "punch list" expert. She can see things that I would never notice. If one of our employees has an issue, she tells them to go to their supervisor first to try to get it resolved, and then come to her if she needs to assist.
Which projects or achievements are you most proud of, and why?
Two projects come to mind. The first one involved the renovation of the Channel 9 TV (WSOC) studio in Charlotte.  The entire renovation had to be completed while the studio was occupied. The scope of the second project at the Coca Cola plant in Charlotte included the removal of some 1970s-vintage rusted drain lines and the installation of new drain lines. The pipes ran a distance of 400' and were buried 10' under the production line of the plant. We completed the project without shutting down production!  That's how we won the project. And the plant environment was critical to maintain.  You couldn't drop a screw on the floor. 
How does 2019 look for Catalyst?
2019 looks very strong for us. New construction looks promising for our sitework business, and the demolition and renovation market looks healthy as well. And the unusual "out of the box" projects that we do so well will always come along. We feel like we are well positioned for the year. The challenge will be how to manage the growth… a good problem to have!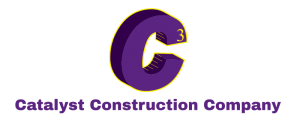 About Catalyst Construction
Catalyst Construction is a design-build general contractor based in Charlotte with 30 employees.  Catalyst specializes in new construction, demolition, renovation, and sitework. They are staffed to handle concrete, trenching, and welding as well. Catalyst was founded in June 2018 and hit the ground running.  The company entered 2019 with a strong backlog and expects to exceed its revenue and profit goals for 2019.  Learn more at  https://catalystcci.com/.